i went to golden palace yesterday with my mum and had dinner, then lily came over and asked me if i wanted my job back so i was all :D:D
went to see new moon today with sian, katherine, james and daniel; it was nice. i like doing normal things like going to the cinema and watching a film and doing something age-appropriate and legal. then lily called and asked if i could work tomorrow, and i'm not one to turn down work, so now i'm doing all the homework i was going to do tomorrow. it's okay though. tomorrow i'll be twenty-five pounds richer which bodes well for me. i'm only working saturdays because i have so much more work these days. which i still can't quite comprehend. downsizing to four subjects somehow = more work. but whatever.
i have this horrendous cough lately. i coughed so hard i nearly threw up earlier which would have been totally disgusting, humiliating and just ugh. my left foot got soaked because there's a hole in the bottom of my left shoe. james gave me a piggyback over the massive puddle that formed outside. i'm really tired but i don't want to sleep yet. i'm trying to do bestchoice but i'm struggling to find any kind of interest in the bonding of carbon and hydrogen. i don't even know why i took chemistry.
and my back is killllllllling me today. yay for muscle ache. my xanga is so inactive lately. probably because i started this blog, actually. but then again none of the weird shit goes on here; that's what xanga is for, amirite. i feel like my head is being crushed between valuev's thighs.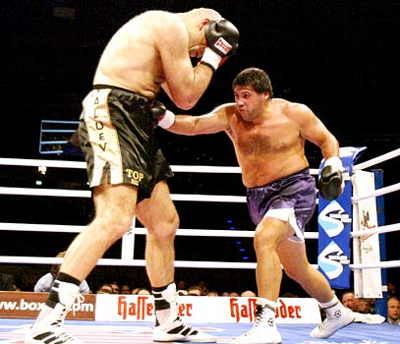 yes, the big one. although either would be painful. i think i'm going to re-read the curious incident of the dog in the night-time, then go to bed. green jello might help the throat though..
& i follow too many blogs and someday hope that some-one will hold me.